So many opportunities to meet the filmmakers, celebrities and fellow film lovers!
Celebrity Salute & Reception, Awards Brunch, "Best of the Fest"
Tickets are required for these events and can be purchased online or by phone, 808-883-0394.
During BIFF, you can buy tickets anywhere there's a film screening. Family films at The Shops at Mauna Lani, Daytime movies at Lehua Theatre and Festival films at Plantation Estate at Fairmont Orchid.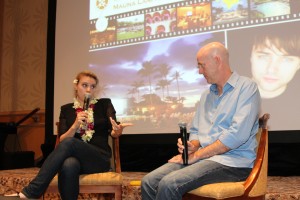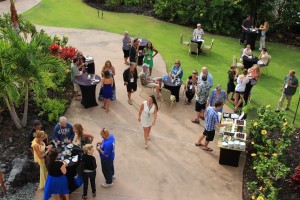 Celebrity Salutes & Receptions
Onstage in-depth interviews with Bellamy Young and Michael Gross, moderated by Peter Caranicas of Variety. There's an awards ceremony, time for questions & answers and a sunset garden reception with fine libations and elegant pupus. Join us!
Reservations by May 25. Purchase tickets online.
Sponsored by Fairmont Orchid, Hawai'i, Pau Maui Vodka, Kimo Sabe Mezcal, Mendocino Wine Company, & Kona Brewing Co.
Tickets/Passes are available online.
Salute & Award Ceremony in the Lehua Theatre • 5:00 – 6:00 p.m.
Reception in Wailana Gardens next to the Lehua Theatre • 6:00 – 7:00 p.m.
$35
Saturday – May 28
Bellamy Young
Bellamy Young  stars as 'First Lady Mellie Grant' on ABC' Peabody Award-winning series, Scandal. Her critically-praised performance has won 'Best Supporting Actress' from the Critics' Choice Television Awards, Entertainment Weekly's 25 Best Characters on TV, #15 on Entertainment Weekly's 50 Best TV Scenes of the Year, NY Post's Top 10 TV Actors and TV Guide Magazine's Fan Favorite Award. Rolling Stone Magazine described Bellamy's portrayal as "the most badass first lady in TV history." Her TV resume includes recurring roles on CBS' long-running series Criminal Minds alongside Thomas Gibson and Joe Mantegna, ABC's Dirty, Sexy Money, with Donald Sutherland and Jill Clayburgh, CSI: Miami and Scrubs. On the big screen, Bellamy appeared in We Were Soldiers with Mel Gibson, Mission Impossible III, with Tom Cruise, Sundance favorite The Freebie and more. A trained singer, Bellamy will soon release her debut album, Far Away So Close, a collection of contemporary covers influenced by her North Carolina roots. Through her philanthropic work, she serves as the national spokesperson for the Humane Society of The United States' campaign, The Shelter Pet Project, and she helps bring awareness to Operation Blankets, a donation-based foundation that repurposes pillows and blankets for animal shelters across the country. Born in the mountains of Asheville, North Carolina, Young graduated from Yale University with dual degrees in English and Theater Studies; she also holds a certificate from Oxford University in England.
Sunday, May 29
Michael Gross
During his forty-year career, actor Michael Gross, is perhaps best known for his portrayal of father Steven Keaton on NBC's award-winning Family Ties. He has played a remarkable range of characters, including recurring roles on the Drew Cary Show, ER, How I Met Your Mother, USA Network's Suits, Netflix's Grace and Frankie, and YTV Canada's The Stanley Dynamic. No stranger to the big screen, Michael enjoys cult status among sci-fi and horror movie buffs in his role of survivalist Burt Gummer in Tremors, its fourth sequel, Bloodlines, and Sci-Fi Channel series. He appeared in Sidney Lumet's Just Tell Me What You Want, played opposite Lily Tomlin in Big Business, worked with actor Lucas Haas in the award-winning Alan and Naomi, with Wynona Ryder in Stay Cool, and is currently producing and acting in a new web-series, Carbon Dating. Born and raised in the Midwest, Michael spent his school years in Chicago, and part of every summer in rural Iowa. His earliest introduction to the stage was musical theatre, as a singer and dancer. He graduated from the University of Illinois at Chicago and earned his MFA from the School of Drama at Yale University. His charitable pursuits have included work with World Vision, animal welfare, anti-drug programs, responsible gun ownership, AIDS research and as a spokesman for the ALS Association (Lou Gehrig's Disease). Michael is an avid rail historian and modeler and was, for many years, the national spokesman for Operation Lifesaver, a national safety organization devoted to railroad crossing safety. He is the recipient of the American Hero Award for his charitable activities.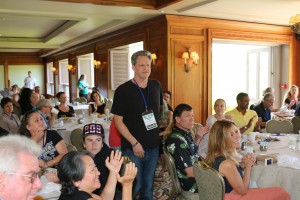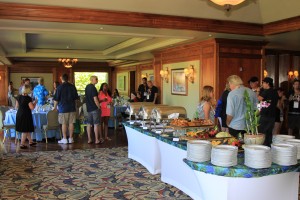 Golden Honu Awards Brunch
Monday, May 30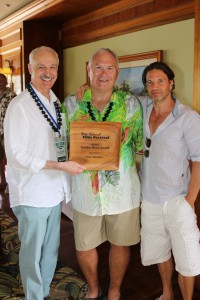 Fairmont Orchid, Hawai'i, Kilohana Room – 10:00 a.m. to Noon $50.
Reservations by May 25. Purchase tickets online.
The public is welcome to join with the filmmakers for a special Holiday Brunch. This is the time for Big Island Film Festival to celebrate those films & filmmakers that are chosen as the best in their category. Filmmakers are presented with an engraved plate in honor of their achievement and a remembrance of our island. The Awards Brunch is also the event that will announce the Audience Choice Short and Feature films to be shown once more on Monday evening at the "Best of the Fest".
'BEST OF THE FEST'
5-9:30 p.m. – Fairmont Orchid, Hawai'i – Plantation Estate
A little bit of everything we do. Support community with a silent auction for Fisher House. Listen to a great Hawaiian music concert on the lawn by the legendary HAPA. Watch the Audience Choice Feature and Short – and say aloha to BIFF2016.
5-7 p.m. – Silent Auction to benefit Fisher House at Tripler Army Medical Center. Items will be on display at the Tennis Pavilion of Fairmont Orchid, Hawai'i. Winning bids will be announced at 7 p.m.
7:30 p.m. – Audience Choice Short and Feature Films. These films were selected by Your Votes during the previous four days.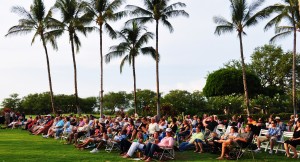 $45 general admission, $35 kama'āina, $10/5 keiki 7-12. All seats are $5 more at the door.
Purchase tickets online.
Films only: Adult $8, Keiki $5. All seats are $5 more at the door. (Doors Open 7 p.m.)

Beach chairs and blankets OK – outdoor lawn seating. Some chairs available as supply lasts. Concessions available for purchase. No Outside Alcohol or Coolers, please.