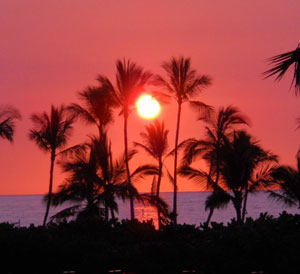 Photo by Kathleen Honey
Enjoy elegant indoor-outdoor receptions for celebrity honorees, Saturday and Sunday evenings 5-7 p.m. at The Fairmont Orchid, Hawai'i.
Join fellow filmmakers and fans and cheer the winners at Golden Honu Awards Brunch, Monday, May 25, 10 a.m. to 12 p.m. at The Fairmont Orchid, Hawai'i.
Tickets are required for these events and can be purchased online or from the Concierge Desk at The Fairmont Orchid, Hawai'i. (Concierge desk transactions must be made by credit card.)
Special opportunities to meet and greet our visiting filmmakers will take place before and after the showing of their films and at special events. Q & A as time permits.



"TASTE OF THE MOVIES"
Friday, May 22 5-7 p.m. at The Shops at Mauna Lani
10th Anniversary Celebration! 10 Chefs – 10 Years. We've invited ten of the island's very best chefs to share their specialties inspired by the movies – a tasty feast from favorite foodie films capped off with "Chocolat." this event is a benefit for future BIFF programming. $75 admission includes food tastings, beverages, and a ticket to the Friday 5/22 double feature at The Fairmont Orchid, Hawaii – Free Parking. Reservations required - Phone Reservations Only. Call 883-0394. Deadline May 18 or when sold out.
Salute & Reception
Saturday, May 23 5-7 p.m. at The Fairmont Orchid Hawai'i Wailani Garden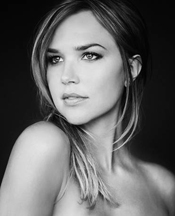 One hour of interview and Award ceremony with audience Q & A. One hour of amazing gourmet food selections by The Fairmont Orchid, Hawai'i chefs with Kenwood wines and other beverages.
The LehuaTheatre for interview
Wailana Garden for reception (just a few steps away). Click here to view reception menu.
A natural talent with a striking screen presence and an undeniable personality, Arielle Kebbel made her mark in Hollywood at just 17, playing the recurring role of "Lindsay Lister" on the hit series, GILMORE GIRLS --a part she won within two days of arriving in Los Angeles from Florida. It was her first audition.
Arielle will next be seen as a series regular on the new HBO series BALLERS starring opposite Dwayne "The Rock" Johnson.
On the big screen, Arielle was most recently seen in BROOKLYN BROTHERS (Toronto Film Festival selection), I MELT WITH YOU (which premiered at the Sundance Film Festival,) the Sony/Screen Gems summer blockbuster, THINK LIKE A MAN which debuted number one at the box-office and SUPPORTING CHARACTERS (Tribeca Film Festival 2012.) Other studio film credits include THE UNINVITED, JOHN TUCKER MUST DIE and THE GRUDGE 2.
Arielle recurs as Lexi on the CW's THE VAMPIRE DIARIES. The character is such a fan favorite, she was asked to host The Vampire Diaries original recap series called REHASH. REHASH inspired Arielle to take hosting to the next level. As one of her first jobs in this arena, Arielle became the host for CW's summer dating game show, PERFECT SCORE. She also starred in Hallmark Channel?s number one movie of last year, A BRIDE FOR CHRISTMAS. Other television credits include recurring roles on 90210, playing the woman fans love to hate, "Vanessa," as well as LIFE UNEXPECTED which was critically acclaimed for the CW. In addition, she has guest starred on episodes of HAWAII 5-0, TRUE BLOOD, ENTOURAGE, and LAW AND ORDER: SVU.
When not working, Arielle enjoys travel, learning about other cultures, foods, plants and animals. Her goals are to connect people though her work and inspire the next generation to make their own mark on this world in their own positive way.

Will Estes Salute & Reception
Sunday, May 24 5-7 p.m. at The Fairmont Orchid Hawai'i Wailani Garden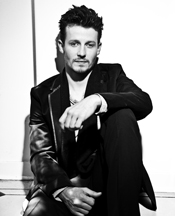 Salute and Award ceremony for Will Estes with audience Q & A followed by gourmet reception with beverages from Pau Maui Vodka & Kona Brewing Co.
The Lehua Theatre for the Award ceremony
Wailana Garden for the reception (a few steps away). Click here to view reception menu.
Will Estes currently stars in the CBS hit drama, BLUE BLOODS, opposite Tom Selleck, Donnie Wahlberg, and Bridget Moynahan. Blue Bloods follows the tight-knit Reagan clan, a family that stops at nothing to see justice served. Estes plays as NYPD police officer Jamie Reagan, the youngest son of the Reagan family.
On the small screen, Estes received critical acclaim for his performance as JJ Pryor on "American Dreams." Additional television credits include a starring role in "Reunion," and guest roles in "The Cleaner," "In Plain Sight," "The 11th Hour," and many others. Also, Estes starred in the television films "Dive from Clausen's Pier," "The Familiar Stranger," and "See You In My Dreams."
Highlights of Estes' film credits include his role in the two-time Academy Award-winning World War II film, "U-571" and role in Christopher Nolan's third installment of the Batman franchise "The Dark Knight Rises," portraying "Officer Simon Jansen."
His additional films include "Anchors" "Mimic 2," "New Port South," "Terror Tract," "Blue Ridge Fall," "May" and "Not Since You." Estes' 2011 indie feature "Magic Valley," premiered at the Tribeca Film Festival. In 2012, Estes wrapped two independent films, the award winning "Line of Duty," playing a drug dealer searching for redemption and the lead role in the noir thriller "Automotive," which premiered at the 2013 Dances with Films Festival in Los Angeles.
When Estes isn't on set, he divides his time between his dogs and his friends and family. He is an avid surfer, traveler and cyclist and his interests include literature, film, motorcycles and martial arts. His humanitarian efforts include advocating proper treatment of animals and an involvement in Heal the Bay to protect Southern California's coastal waters. Estes is an advocate of sustainability and installed a solar panel system at his home to produce electricity from the sun.
Estes was born and raised in Los Angeles. Currently, he resides in New York City.
Best of the Fest
Monday, May 25 5:00 p.m. - 9:30 p.m. at The Fairmont Orchid Hawai'i Plantation Estate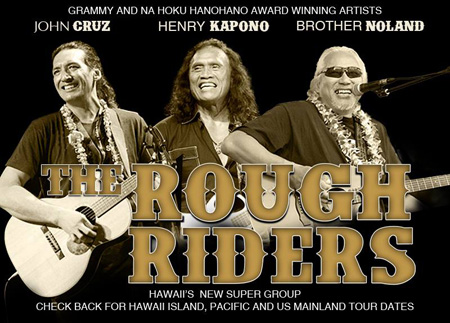 Back by Popular Demand - a new trio with old friends of BIFF: Henry Kapono, John Cruz and Brother Noland join us as the Rough Riders.
Rough Riders Concert starts at 5 pm while a Silent Auction takes place to benefit Fisher House at Tripler Army Medical Center. Then at 7:30 we present the Audience Choice feature & short films chosen during the festival. This lawn event allows beach chairs. There will be impressive food selections, snacks, beer, wine, & other beverages available at reasonable prices. Celebrate this Memorial Day with a picnic on the lawn, music & films. Good FUN!
A portion of each ticket sold will be donated to the Hawai'i Island Food Basket.